Read-a-Thon April 2013
I have not blogged at all in the months since the last read-a-thon. I also have barely read anything since January. I have managed to finish exactly one book in four months.
This read-a-thon I want to get re-energized about reading and writing and blogging again. I miss all of it a lot but just haven't felt right about it. I don't feel like I can talk about what's been happening, it's just too personal, but I hope I get swept up in the excitement of the rah-rah-read-a-thon. I really hope that happens. That would be great.
For my fellow read-a-thon participants I have put together some things that have helped in past read-a-thons.
Now to start reading. I don't really have a list, I'm just going to wing it and see what happens.
Hour 1
I'm up early to get this written up and am going to make a cup of tea before settling down with my first book, Amity & Sorrow by Peggy Riley.
Introductory Meme
1) What fine part of the world are you reading from today?
I'm in St Louis, Missouri the gateway to the west.
2) Which book in your stack are you most looking forward to?
Amity & Sorrow has gotten me interested enough to start reading again. I have read and reviewed a similar novel in the past, The Chosen One. Cults have always fascinated me, it will be interesting to read this perspective and get to see what happens after members leave.
3) Which snack are you most looking forward to?
I haven't had a banana and karo sandwich with nutella in a long time, will be interesting to see if it tastes any good now that I'm an adult.
4) Tell us a little something about yourself!
I'm a bit of a nerd. I'm really into speculative fiction, but especially epic fantasy in all forms and especially especially the Lord of the Rings. I'm going to be taking a one hour break in the middle of the day to log onto my favorite MMO Lord of the the Rings Online where I'm meeting up with my six person band to put on an in game Lord of the Rings tribute concert for my kinship. That requires several levels of nerd to get to that point, I know. We're on the Nimrodel server and will be on the Bree stage across from the Prancing Pony at noon central time if you play the game and want to come out.
5) If you participated in the last read-a-thon, what's one thing you'll do different today? If this is your first read-a-thon, what are you most looking forward to?
For the very first time I'm going to completely wing it, no reading list, no menu, no schedule. Just read what I want, when I want. It's both liberating and a bit daunting. We'll see how it works out.
Hour 2
Got a good chunk of the way into Amity & Sorrow and even participated in a few mini challenges. The book is really interesting and exciting. I'm glad I picked this as my first read of the day.
Book Spine Poetry Meme
The Decline and Fall of Practically Everybody / Over The Edge of The World / The Elegant Universe / Born in Blood and Fire
Hour 6
Nearly half way through Amity & Sorrow and it is turning out to be pretty good. Also had the concert and it went off without a hitch, a lot of people enjoyed it and had a good time.
Just wanted to let you all know I'm still here and I'm still reading.
Hour 12
I am still here and still reading, I'm nearing the end of Amity & Sorrow and hope to finish in the next hour or so. I'm on my third cup of tea but still going strong for now.
Mid-Event Survey
1) How are you doing? Sleepy? Are your eyes tired?
Definitely feeling sleepy, I'm afraid if I go down it will be down for the count, have to see how well I can stay up.
2) What have you finished reading?
Nothing yet! I started a book today and it's looking like I will finish it soon. So at least there will be one book done before the end of the read-a-thon.
3) What is your favorite read so far?
The only one I'm reading is turning out well. I thought it was YA going into it, but it is definitely an adult read. The adults in it are acting like teenagers though. Ugh.
4) What about your favorite snacks?
Don't know about snacks but I have been enjoying my tea, straight black, some chai, and now a double shot english afternoon tea.
5) Have you found any new blogs through the readathon? If so, give them some love!
Would love to give a shout out to the awesome cheerleaders who have been keeping my spirits up: Stuff as Dreams are Made on, Aarluuk: Northern Stories and Worducopia.
Hour 15
Yay! I finished my first book of the read-a-thon Amity & Sorrow. I think I will read a book of short stories next and see where the rest of the evening takes me.
Casting Couch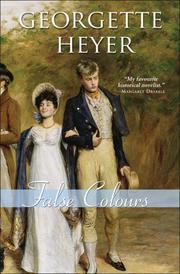 I would have to go with the hilarious twins in False Colours by Georgette Heyer. You know. If her estate didn't specifically ban her works from ever being made into a movie ever again.
Christopher "Kit" Fancot knows that something has gone wrong. He and his twin brother Evelyn have always known when the other was in trouble, wounded or worse and Kit has a very strong feeling that something has happened to Evelyn. Kit lives abroad where he works for a diplomat but he comes home to England and arrives unannounced in the dead of night. It's to find his mother in a desperate situation. His mother is in a huge amount of debt and his twin brother Evelyn has gone missing. Evelyn needs to be able to meet with his fiance Cressida Stavely's family or risk having an elderly matron frown on the marriage of convenience (he wants to wind up his Trust, she wants to be free of her father and his new wife) and call the whole thing off. If Kit's twin doesn't marry, the family fortune won't be made available to him, and their mother's fantastic debts will lead to trouble for all involved.
That's when his mother hits upon an idea he wishes she hadn't. No one knows Kit is in town, so Kit can pose as Evelyn! For just one evening, she promises. In true Georgette Heyer style the crazy idea spawns yet more crazy and untenable circumstances that have Kit living in Evelyn's shoes for far longer than he wishes to and results in him feeling more for his twin bother's fiance than he really should.
As for who I would want to play the twins in this hilarious mix up. Um, hello? Who else? The twins that played Fred and George in the movies for the Harry Potter series! James and Oliver Phelps! Couldn't you just picture them really shining and livening up a regency piece playing two very different twins with one very bird witted mother? It would be fantastic.
Hour 24
I didn't manage to stay up too terribly late. I went to bed around 11-11:30PM and got up at 3AM to read a little more before going back to sleep again. I was happy with the progress I made finishing one book cover to cover and coming down to the wire with my second book, there is only about fifty pages left.
End of Event Meme
Which hour was most daunting for you?
Hour 17 when I finally decided to lay in bed and read. That worked out about as expected.
Could you list a few high-interest books that you think could keep a Reader engaged for next year?
I really enjoyed the Leviathan trilogy by Scott Westerfeld, a fantastic steampunk series based in the beginning of World War I (good for teenage boys too). I also loved Incarceron and Sapphique by Catherine Fisher, highly recommended for fans of Tad Williams' Otherland series as a very short, condensed alternative. Plus, now that they have been optioned for film, I always recommend the Graceling and Forest of Hands and Teeth trilogies.
Do you have any suggestions for how to improve the Read-a-thon next year?
Would love it if you guys went back to creating facebook events for the read-a-thon. Also wished you used some sort of url shortener (wordpress plugin style or similar) so that you could change the source links to mini challenges after they went out behind the scenes. Many of them 404ed throughout the day.
What do you think worked really well in this year's Read-a-thon?
Everything was well thought out, set up nicely, and lots of organizational effort went into this to make it fun and great for everyone. I really appreciate the time and effort you guys put into this. Great job!
How many books did you read?
Only one, and quite a bit of a book of short stories as well.
What were the names of the books you read?
Amity & Sorrow by Peggey Riley and Wasteland: Stories of the Apocalypse.
Which book did you enjoy most?
Amity & Sorrow without a doubt.
Which did you enjoy least?
The short story "Killers" from Wasteland: Stories of the Apocalypse.
How likely are you to participate in the Read-a-thon again? What role would you be likely to take next time?
Very likely. I wish I could redesign the website. As a webdesigner the read-a-thon website just… bothers me. It's good, it could be a lot worse, but it could be a whole lot better too.